OAE YA116-2 Seahawk

OAE YA116-2 Seahawk

Role

Multirole aircraft prototype

Manufacturer

First flight

May 2012

Developed from
The
OAE YA116-2 Seahawk
was a small multirole paper airplane prototype developed from the
OAE A116-1 Starhawk
. Structurally, the two had very few differences. Due to elevator placement differences, however, conversions were not possible. The largest difference between the two was the Seahawk's folding wings, which necessitated the change in the placement of the elevators. For storage purposes, the outer wing panels could be folded upwards, as seen in the photograph below.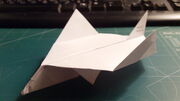 OrigamiAirEnterprises canceled the aircraft after poor handling was displayed in flight testing after the outer wing panels had been folded and unfolded several times.
Ad blocker interference detected!
Wikia is a free-to-use site that makes money from advertising. We have a modified experience for viewers using ad blockers

Wikia is not accessible if you've made further modifications. Remove the custom ad blocker rule(s) and the page will load as expected.