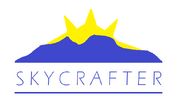 Skycrafter was the manufacturer established by GRKSpeed, the founder of the Paper Airplane wiki. It was the first to be covered by the wiki. Skycrafter usually constructed fast planes of all sizes. With no updates from GRKSpeed in over two years, Skycrafter is considered defunct.
Below is a list of the planes that Skycrafter have built. In total, there are 22 as of January 20, 2012. Here is the list:
"Swift Turbojet" era (September 2011-Present)
Edit
"Fusion Series" (November 2011-Present)
Edit
Others (N/A)
Edit
Ad blocker interference detected!
Wikia is a free-to-use site that makes money from advertising. We have a modified experience for viewers using ad blockers

Wikia is not accessible if you've made further modifications. Remove the custom ad blocker rule(s) and the page will load as expected.